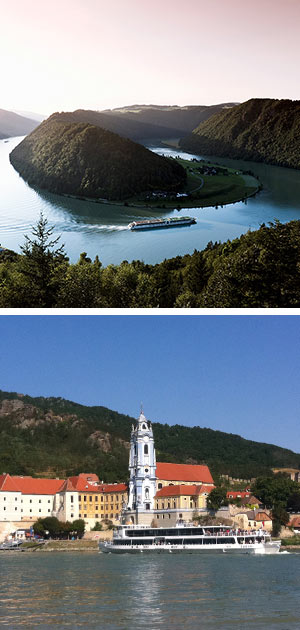 Tourist­ information and images
The Blue Danube connects up a vast range of picturesque scenery and historical sights. As well as enjoying the surrounding beauty from the decks, passengers can leave the ships to discover myriad things to see and do in the areas within the Danube regions of Upper and Lower Austria.

Linz - the city of culture, the 'Mostviertel' - land of the pear, the picturesque world heritage region of Wachau, the Vienna woods - the 'green lungs of Lower Austria', the ancient Roman March-Donauland, and the pulsating city of Budapest. Every region offers numerous opportunities to experience historical, cultural, scenic and culinary pleasures.

To provide an impression of what to expect we have compiled a selection of the best features and places along the Danube from Linz to Budapest. Imagine the magnificent views from the ship and marvel at the images of the multifaceted regions. More detailed information can be obtained at various tourist information offices and stands. The links are provided with the individual regional descriptions.